THE REVOLUTIONARY TECHNOLOGY (part 2)
THE REVOLUTIONARY TECHNOLOGY -

The result of years of research and study with the best confectionery and gastronomy professionals, Qbo - Universal Processing System is already a full production lab that works with your recipes and your ingredients, making your work easier and enhancing the quality of your products.
---

ALL OF THESE ELEMENTS ARE INTEGRATED INTO A SINGLE UNIT:

• Integrated steam generator.
• Rapid APS (Advanced Power Steam) heating up to +120˚C in a few minutes.
• Chill blasting from 120°C to 10°C, using a combined system.
• Knives with micro-toothed blades.
• Complete system for vacuum and pressurised processes.
• Inverter-controlled speed adjustment PLC with Touch-Screen operator panel.
• Management software with 100 user programmes.
• USB port for software upgrading and data analysis, technical support and download process diagrams for the HACCP.
• Tilting bowl.
• Pneumatic extrusion to empty the bowl.
• Automatic fluid and semi-fluid product ejection function.
• Motorised internal bowl scraper.
• Lighting inside the bowl.
• Automatic wash with 3-cycle programme and steam nozzle for external cleaning.
• Integrated safety system with malfunction and maintenance signals.



THE PROCESSES

EMULSIONS
Ganache, Mayonnaise, Spreads: emulsions that have a perfect structure, that are stable over time, perfectly glossy and have no air inside. Roboqbo's exclusive System.

PASTEURISATION
The Roboqbo-patented system for steam cooking with a bowl jacket guarantees unique and essential characteristics for superior product quality, offering: cooking speed (120℃ in a few minutes), the possibility of programming the process temperature within an accuracy of +/- 0.5°C, the possibility of choosing gentle cooking methods thanks to an intermittent heat delivery system. With Qbo - Universal Processing System you can choose pressure, ambient atmosphere or vacuum cooking. Direct bowl jacket steam injection system available on request.





EVAPORATION COOKING
With this special system it is possible to cook using evaporation conveyed outside the work environment, without polluting the environment, with measured heat that preserves flavours, colours and original aromas.

BLAST CHILLING
Qbo - Universal Processing System associates blast chilling with the cooking process through a combined cooling system to bring the product temperature down from 120°C to 10°C.

DOUGHS
Qbo - Universal Processing System is also a perfect kneader: for cold preparations, in just a few seconds you can make short pastry, meat, cheese and fish fillings; for hot preparations. in a matter of minutes you can make a very smooth choux dough that will rise well in the oven.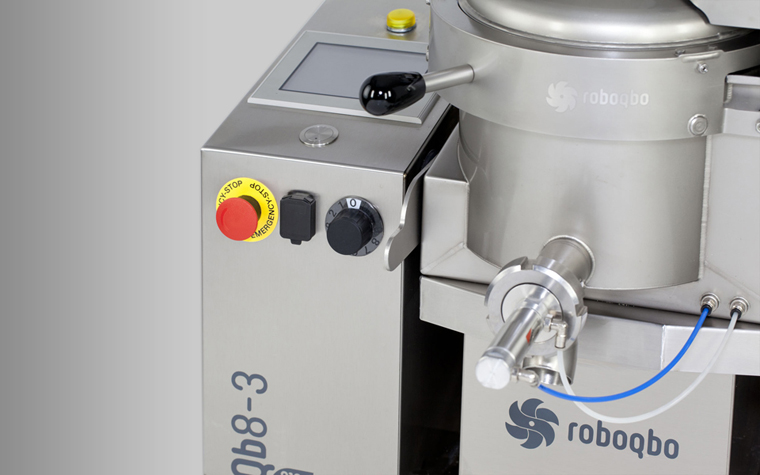 CUTTING , MIXING AND HOMOGENISING
Thanks to its unique and innovative design, along with the various accessories it is supplied with - the bowl scraper, the knife with smooth or micro-toothed blades, the mixing blade, the basket for candying and steam cooking - Qbo - Universal Processing System may be used as a simple cutter, mixer or homogeniser, quickly switching from efficiently chopping vegetables or meat to kneading dough or creating perfect emulsions.

CONCENTRATES AND VACUUM COOKING
The set of technologies used in Qbo - Universal Processing System are highlighted by the use of concentrates placed under vacuum which, in addition to preserving all of the organoleptic characteristics and nutritional properties of the ingredients, they allow you to produce ultra rapid, customizable concentrates (5 minutes for jam). For example, with Qbo - Universal Processing System you can make: tomato purée, chunky or smooth marmalades and jams, as well as condensed milk and candied fruit.

REFINING
Qbo - Universal Processing System is fitted with an Inverter which, by adjusting the operating speed, can achieve refinement levels of up to 20 microns for a perfect T.P.T., hazelnut or almond paste, or cook vegetables or rice without altering the piece sizes.

CANDYING
A complex process (a Roboqbo exclusive) which allows you to prepare candied products in 12 hours, with outstanding, customizable results in terms of structure and quality.




---


NATURALLY UNIQUE.
TIME IS QUALITY.

Roboqbo's system is the real change in food processing industry and the organisation of your work.

The reason lies in the opportunity of being able to produce your product, starting from your ingredients and raw materials, using just one machine and one working cycle.
The secret of the high quality results is the cooking system, a Roboqbo international patent, which involves no direct contact between the heat source and the raw materials, an airtight environment, gentle but fast cooking methods and preventing the organoleptic values and the nutritional properties of your ingredients from being dissipated in the air or oxidising. These are instead concentrated even enhanced, giving added value to your product in terms of quality that no other processing method can achieve.
Thanks to vacuum and the ability to pasteurise your products, Roboqbo can extend the shelf life and transform your production while lowering storage costs of raw materials, skilled labour, electricity and water consumption rates. It allows you to invent tomorrow's new products, lead the market, make a difference!


---



Warranty
Upon request you can extend technical support and supply parts covered by warranty.





Know How
With Roboqbo you always have a team of top Consultants and Professionals, Pastry Chefs, Chefs and Food Technologists at your disposal and next to you from the preliminary tests on your product to the development of your recipes into production.




Training
Roboqbo offers you free training on how to start using the machine as part of your business.

Learn more: Qbo - Universal Processing System


---